---
After dealing with the deadly effects of the coronavirus outbreak for weeks, most Chinese cities and provinces are finally recovering -- businesses, shopping malls, and restaurants, and public transport are returning to their daily service schedules.

Despite the slow reappearance of the goods and services sector in China, the government is heavily monitoring the inflow of people into public spaces. For example, only a few hundred people are allowed to be in a shopping mall at a time. The government advises people to refrain from using public transport often and usual busy hours. Chinese authorities claim that this is done to avoid excessive human contact and congestion, which can possibly cause the further spread of Covid-19.

Wuhan, the capital of the Hubei province remains the city with the most infections and deaths. Hubei is the worst affected province.

Trade and Drayage

Since last week, most Chinese provinces have lifted the hold on trans-city transport, remarkably improving the drayage situation. The latter seems to be negatively affected by the lack of working truckers to move goods from one place to another. Consequently, cross-province delivery and transport are expected to take a little longer to fully overcome the travel bans and the lack of labor.

In spite of these challenges, most freight carriers and trucking companies have announced that they will be gradually returning to business within the next week, which will allow drayage transportation to return to its full capabilities. This will result in the timely and efficient delivery of goods between cities and provinces.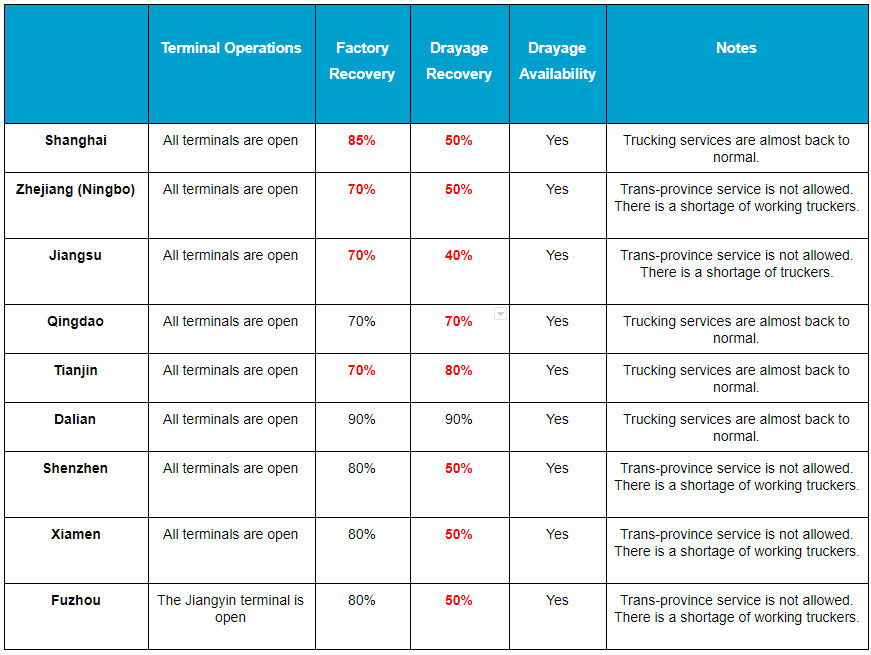 ---
More News