---
Manufacturing in China is staging a slow comeback after the month-long standstill caused by the coronavirus. While the Hubei Province and the City of Wuhan, the epicenter of the virus, still remain shut down, other cities and parts of the country are slowly returning to normal function.

Chinese medical experts expect that cities like Beijing, Shanghai, Qingdao, Tianjin, and Dalian will fully overcome the aftermath of coronavirus by March 10. In these areas, manufacturing and drayage recovery rates have been on a hike, and are comparatively better than that of other large cities.

Eastern cities like Wenzhou (Zhejiang) were heavily affected by the virus at the end of January, but seem to have had a slow comeback since then. While the government has allowed for some factories to open, the productivity is still partial, as there's a huge shortage of labor and raw materials. Concurrently, drayage prices are at a peak, as there are not enough truckers to maintain the flow of the supply chain.

The labor shortage has resulted in a great backlog in ports and terminals across the country, as transport restrictions and other measures to combat the virus have prevented truckers from operating anywhere near their full capacity. Most drivers require a permit to return to work. They often face quarantine for 14 days, before they can do anything.

As expected, lack of labor in the ports and within trucking companies leaves all imported containers—perishable and non-perishable— unable to be transported to their intended destinations. This is problematic, as it allows these goods to linger in port yards for unknown periods of time. However, it creates an even bigger issue with reefer containers, as they spoil in a short period of time.

This epidemic is especially affecting ports and terminals in eastern and southern cities. Most southern cities like Shenzhen were seriously affected by the virus, thus drayage and business recovery in these locations will take a week or longer.
Follow this chart to see port terminal conditions and operation status.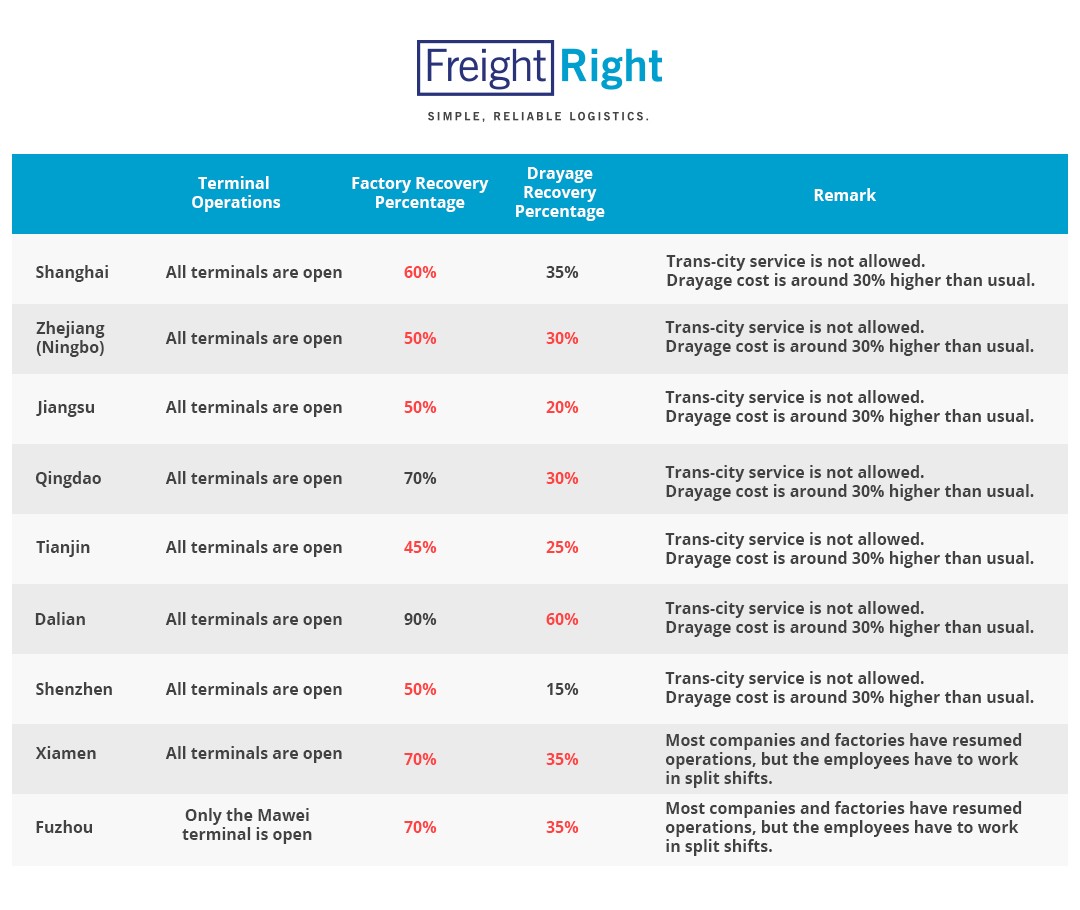 ---
More News