---
The COVID-19 pandemic has upended the food and product supply chain, caused closures of meat packing plants, and left Americans with the unusual sight of empty supermarket shelves.
The streak on toilet paper and cleaning supplies — a result of panic buying and supply-hoarding — caused severe shortages in grocery stores. In turn, this led Americans to question the strength of the nation's supply chain and whether or not it will be able to carry Americans through the pandemic.
Experts claim that Americans don't need to worry about running out of food, however, that doesn't mean that the same options will be readily available, all at once. In other words, this means that supply and food shortages will still remain a problem, but they won't be as noticeable.
The supply chain is designed to handle and overcome local and short-term global disruptions. However, all of that became a little more vulnerable about two decades ago when production flow changed into what is now known as "just in time" production.
What this did was prepare the system to produce, handle, and deliver only as much product as consumers demand at any point in time. This reduced stockpiling tactics and created a demand-based system.
Consequently, if there's not enough surplus of product in warehouses during global emergencies and pandemics, like the novel Coronavirus, the supply chain will also see a hit. We saw a perfect example of what can happen when people buy more than they usually do in the early weeks of Coronavirus safety precautions in the U.S.
Toilet paper, a product that never really has a "peak" demand season and has a consistent production flow year-round, was flying off the shelves in markets and grocery stores across the country, once again causing a demand disruption within the supply chain.
While panic buying and just-in-time production both played a huge role in the supply chain disruption, there are other factors to consider. One of the largest challenges that the grocery supply chains faced as a result of the Coronavirus pandemic, was the maldistribution of food and supplies.
Before the pandemic, people used to rely on other sources of food supply than groceries. The supply chains in the United States are especially set for normal times, where many people eat out and kids get breakfast and lunch at school.
Americans didn't spend as much time at home, thus got a significant amount of food from restaurants, convenience stores, and fast food chains. Now that the number of people staying home has significantly grown, the number of weekly grocery trips have also seen an increase, which has caused inventory shortages in grocery stores across the country.
What about the food suppliers for restaurants?
According to the Produce Marketing Association, some $5 billion worth of fresh fruits have been thrown away by major restaurant and hospitality industry suppliers since the "stay at home orders" took effect. Dairies are pouring thousands of gallons of milk out, all due to spoilage and decreased demand from the industries they serve.
Is there really a lack of demand or is it something else?
It's something else. Now that restaurants and hotels aren't as functional as they usually are, we see that the supply chain may be faulty. Grocery stores are running out of food and supplies to sell, while restaurant suppliers are throwing away billions of dollars worth of product. This shows us a clear imbalance in food distribution.
In conclusion, many other aspects, like limited delivery and worker capacity, America's reliance on guest workers in agriculture, and virus outbreaks at food producing plants, all play a role in exhausting the already-stressed out food supply chain in the United States.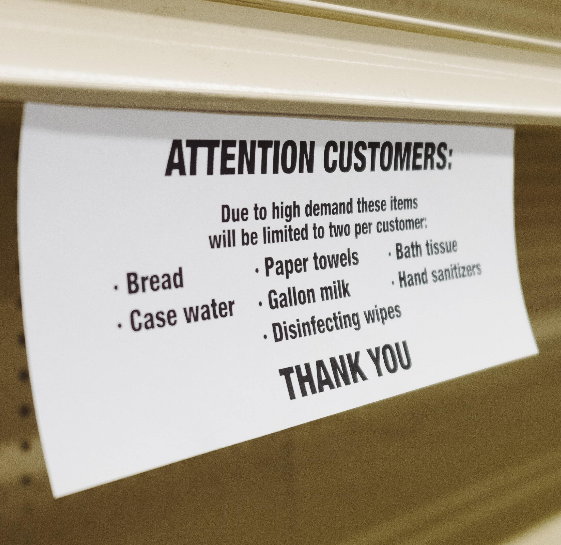 ---
More News