---
The coronavirus has weakened major economies worldwide, affecting production, manufacturing, and trade rates between China and the rest of the world. China's crucial role in logistics makes it harder for the country to maintain its demanded operations, all the while fighting this deadly disease.
To control the spread of the disease, dozens of shipping ports have slowed or entirely ceased their work activities. As a result, logistics companies have been greatly affected, as well.
Here are some live logistics updates from China:
Cities that have slowly resumed work:
Shanghai- Holds the largest shipping port in the world.
Beijing- Home to the China World Trade Center- China's economic center.
Shenzhen- Holds the third largest shipping port in the world.
Working or Not?
For the most part, laborers have been returning back into their cities since the beginning of February, but are mandated to stay under quarantine for 14 days.
In the cities that were less affected by the virus, companies get to decide if their employees can work from home or in the offices.
Companies like ONE, Apple, and COSCO have extended the break until Feb. 14.
Maersk's return date is March 1.
Companies like WWL have arranged two-working shifts per day to avoid having too many people in the offices at once.
Non-Functioning Locations
To avoid the further spread of the disease, the Chinese government has blocked some cities, where nobody is allowed to return to work until the government lifts the block.
*Wenzhou /Zhejiang and the Hubei Province are heavily affected

Drayage and Logistics Issues
Logistics companies are having a difficult time providing drayage services due to blockages between cities and provinces.
The City of Zhejiang and the Jiangsu Province in East China are currently suffering the consequences of this disease the most. North China is more functional.

Follow this chart to see port terminal conditions and operation status.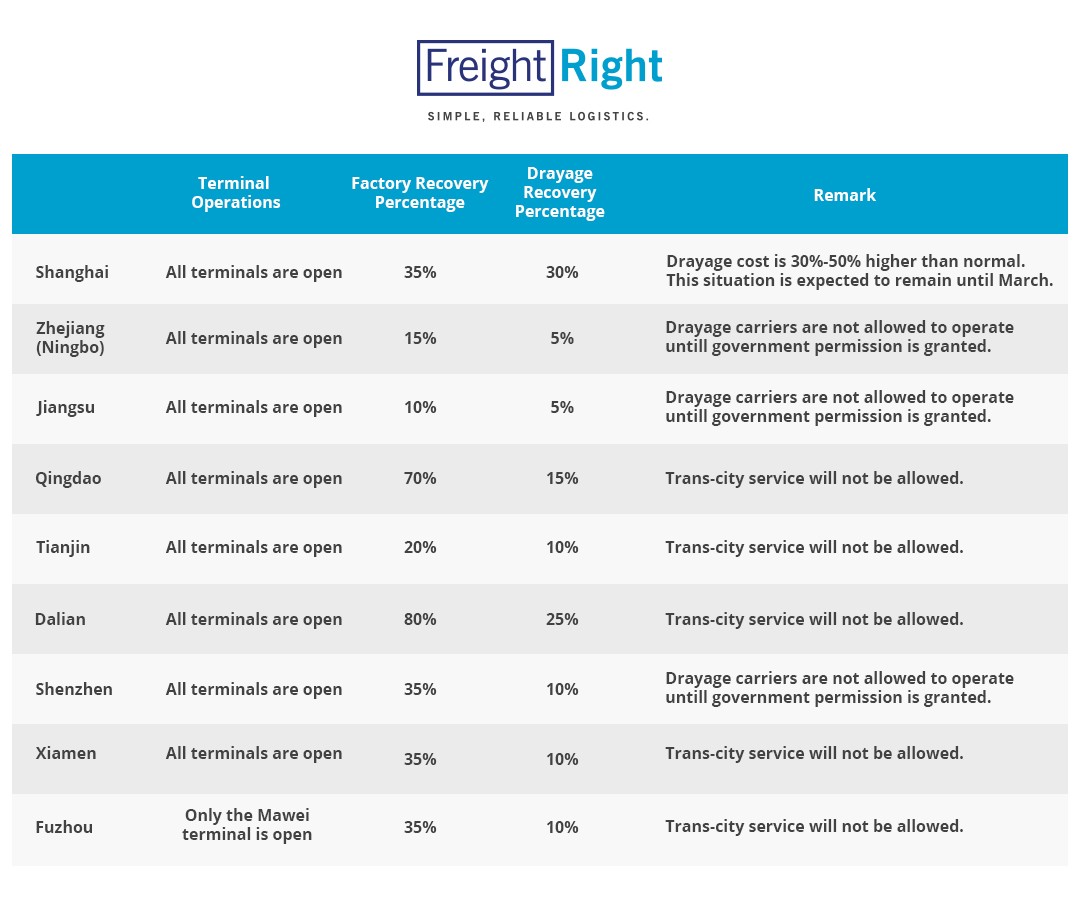 ---
More News