---
What are the changes?
In preparation for the coming holiday season and in an effort to optimize storage space, Amazon has begun implementing ASIN limits as low as 200 units for some Fulfilled by Amazon (FBA) sellers.
This means that at any given time, sellers with the reduced ASIN limit will only be able to have up to 200 units of product in an Amazon fulfillment center.
Amazon stated their goal in these limits is to prepare for the "sustained increased demand" of the holiday season, they added that, even with limits, "most products will have enough space available for over three months of sales."
For sellers under these restrictions, however, this presents a problem for keeping up with demand and could lead to sellers being out of stock for periods of time, negatively affecting profits.
Who do these changes affect?
This change, announced July 13, 2020, went into effect August 16 and affects sellers attempting to list new FBA products and merchants with an Inventory Performance Index (IPI) below 500.
Despite frustration over Amazon's policy shifts, many sellers have found creative solutions to maintain stock and profits, even with the restrictions.
What are some solutions?
One solution, for sellers who have space, is to ship products to their homes or offices and restock the FBA locations accordingly. However, this option is restricted to smaller sized products and requires extra time on the part of the seller.
Another strategy sellers are utilizing is to take advantage of the low unit limit to sell higher-priced products that they stock less of in order to maximize profit and limit risk by keeping stock low. This solution, however, is only effective for those who have more options for what kind of products they chose to sell.
The most common and effective solution is to use a third-party logistics service to manage products between the manufacturer and an FBA location. This allows sellers to take advantage of their 200 allowed units, limit the risk of depleting stock, and avoid the possibly long wait times from their manufacturers by having stock close at hand. Moreover, this solution is especially helpful for those whose manufacturer's minimum order quantities are above the 200 unit limit.
Using a logistics service also allows sellers to utilize the Fulfilled by Merchant (FBM) option with their FBA ASIN listing, giving them the ability to ship products from their home, office, or third-party prep center. This enables the seller to utilize their 200 units, but also protects against running out of stock.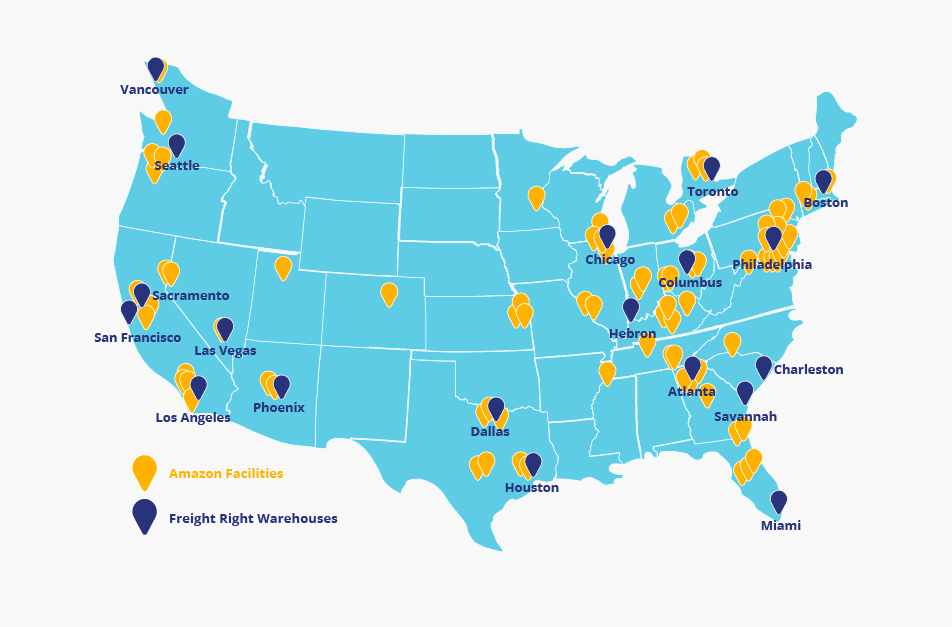 How can Freight Right help?
As one of the first members of the Amazon Service Provider Network (SPN), Freight Right is a top choice as an Amazon logistics service. With a network of warehouses near every major FBA facility in the United States and Canada, we offer a full range of services for Amazon sellers. This includes prep-work, warehousing, full container load (FCL) delivery, and less than container load (LCL) delivery to fulfillment centers.
Check out our ​Amazon logistics solutions​ for more information on our FBA services.
---
More News