---
Over two weeks since the bottleneck in south China began, the situation at the Yantian International Container Terminal (YICT) has gone from bad to worse and rippling effects are hitting surrounding ports as well as other modes of transport.
Nearby port Shekou and Nansha are facing congestion as ships and container laden trucks attempt to avoid the now almost parking-lot situation at Yantian.
With the entire western side of the terminal out of commission and the easter side operating at only 30% capacity, the Pearl River Delta is quickly filling with waiting container ships. As of Wednesday of this week there were 26 vessels in the port and 40 at anchor waiting to enter, according to MarineTraffic. In a normal market, there would be no more than five vessels waiting to berth.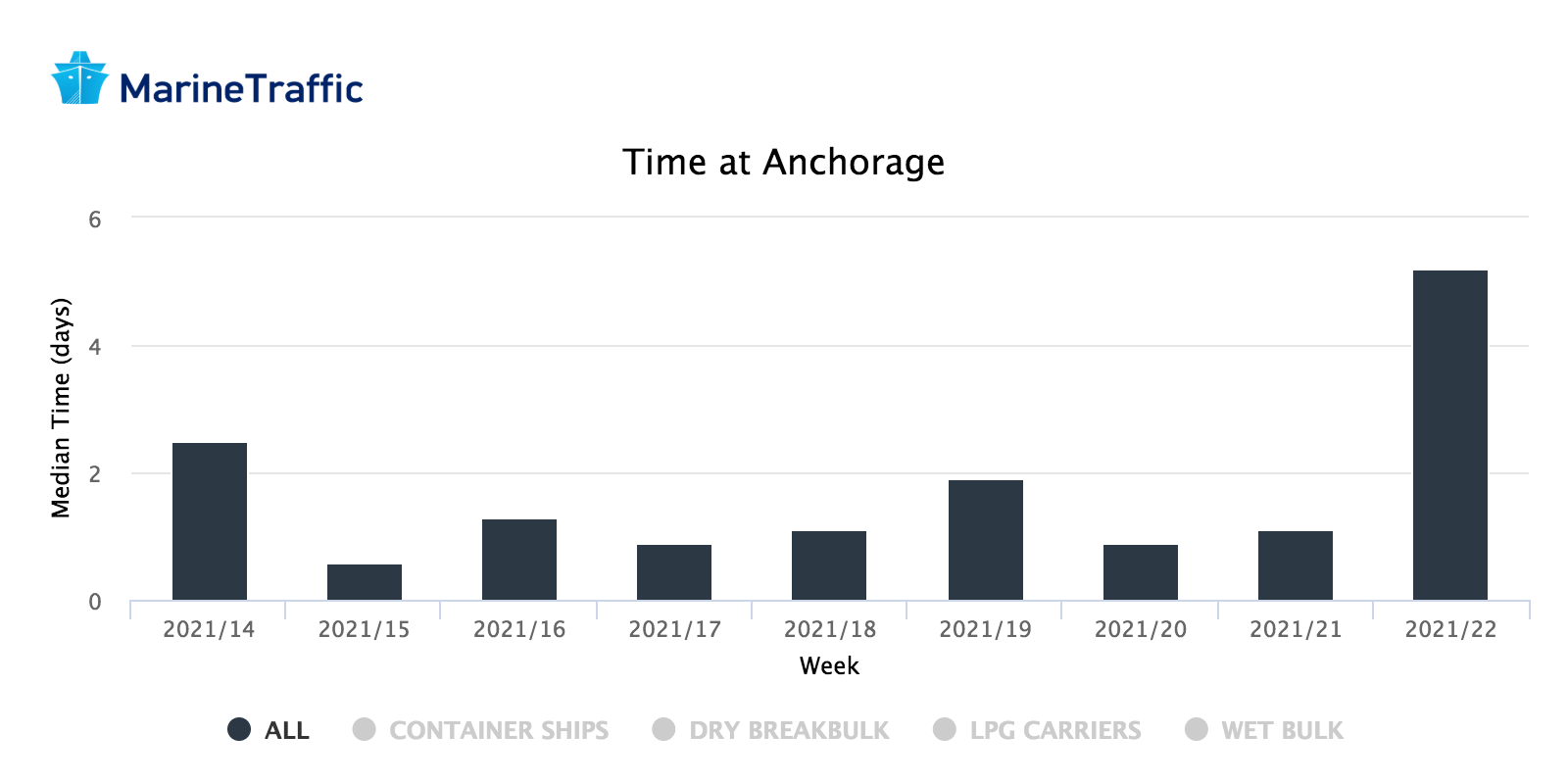 Moreover, ships in the queue could be waiting up to 16 days, as opposed to even seven weeks ago when wait times were less than a day.
As COVID infections rise and quarantine, social distancing, and disinfection protocols continue to restrict productivity at Yantian, the rest of the supply chain will (and has already has) feel the effects.
The first impact has been on local trucking and the nearby ports of Shekou and Nansha as shippers are moving their goods via trucks to other ports for a significant cost in order to have a chance at their shipments reaching their destination anywhere close to on time.
However, this slowdown will not have just local results. The Port of Yantian is responsible for around 25% of all US-bound Chinese ocean exports. The Loadstar reports that there are an estimated 25,000 TEU's a day not being handled because of reduced productivity at the port.
This number, and many experts, indicated that this situation could impact ocean logistics even more severely than the Suez Canal incident. While the Ever Given grounding blocked 55,000 TEU's daily, it was only stuck six days, weras we are over 14 days into this situation at Yantian. Thus, the amount of affected containers at Yantian so far has already surpassed the Ever Given and there is no end in sight as of yet.
As with the Ever Given incident, when the backlog of containers is cleared at Yantian, destination ports around the world, and particularly in the US, can expect a large influx of cargo. This will put already strained ports, like Long Beach and Los Angeles, in the way of yet another wave of congestion–further pressing the tremoring supply chain.
While those disruptions are between two to five weeks in the future, right now the biggest impact will be felt on shipper's already drained wallets. The Freightos Baltic Index reports that rates for a single 40' container from Asia to the US West Coast rose 15% in the last week to a new high of $6,341. Similarly, from Asia to the US East Coast, rates climbed to a record of $9,317, up 250% year over year.
On top of these rate increases, schedule reliability is plummeting as major carriers like Maersk and Hapag-Lloyd announced blanked sailing or skipped port calls to the Shenzen area, particularly Yantian. Both liners saw huge jumps in planned port omissions and carrier giant, Maersk, described the situation as "deteriorating".
Unfortunately, the brunt of these delays will fall on the shipper, both financially and logistically. Anyone planning to move cargo from this area should plan for an extra two weeks of lead time, at least, and prepare for astronomical rates.
Need help navigating today's insane market? Request a quote or reach out to us today!
Follow us on twitter @rightfreight for updates and more industry news.
---
More News