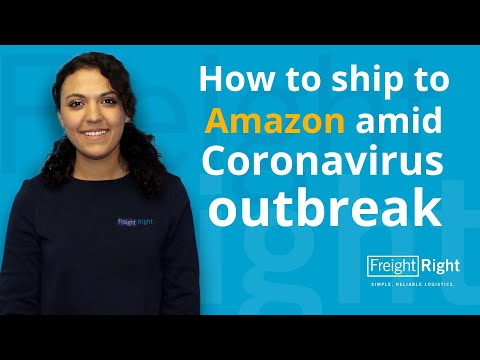 The most economical way to get your shipment from China to Amazon
We ship consolidated containers from main ports in China to Amazon facilities in the United States, weekly. The shipments are prepared and labeled in China, after which, containers are delivered directly to Amazon without getting unloaded or processed in U.S. warehouses. This is a delivery system used by the largest Amazon sellers. Now you can do it, too, regardless of your shipment size. This is a smart, economical option for LCL's that do not have critical delivery times.
Talk to one of our FBA experts for available origins and FBA facilities!

Fine print:
Rates are based on Free on Board (FOB) terms. Insurance and customs bond is not included.
Pick up charges may vary for remote origins.
Subject to Freight Right Terms & Conditions of Service.
 
ONT8 Address: 24300 Nandina Ave, Moreno Valley, CA 92551
ONT8 Rates
| | | | |
| --- | --- | --- | --- |
| Description | Rate | Break/Unit | Min |
| Pickup | $40.00 |   | $120.00 |
| Ocean Freight Rate | $104.00 | 0-3 CBM | $130.00 |
| Ocean Freight Rate | $101.00 | 3-5 CBM |   |
| Ocean Freight Rate | $95.00 | 5-10 CBM |   |
| Ocean Freight Rate | $92.00 | 10+ CBM |   |
| Customs and Handling | $65.00 |   |   |
| ISF Filing Fee | $50.00 |   |   |
FTW1 Address: 33333 Lyndon B Johnson Fwy, Dallas, TX 75241
FTW1 Rates
| | | | |
| --- | --- | --- | --- |
| Description | Rate | Break/Unit | Min |
| Pickup | $40.00 |   | $120.00 |
| Ocean Freight Rate | $125.00 | 0-3 CBM | $150.00 |
| Ocean Freight Rate | $118.00 | 3-5 CBM |   |
| Ocean Freight Rate | $113.00 | 5-10 CBM |   |
| Ocean Freight Rate | $100.00 | 10+ CBM |   |
| Customs and Handling | $65.00 | Flat |   |
| ISF Filing Fee | $50.00 | Flat |   |
| Fulfillment | $0.00 | CBM |   |
| Labeling | $0.00 | Per Box |   |