Freight can be one of the most significant expenses for Amazon Sellers, and even seasoned vendors can make mistakes, and those mistakes can be very costly for sellers.
With twelve years of experience in freight forwarding and as one of the first logistics companies to become part of Amazon's Service Provider Network (SPN), Freight Right has all the shipping solutions you need to transform your FBA business.
What does it look like to work with the most experienced Amazon Logistics Team in the market? Spoiler: it makes FBA selling simple.
Our step by step guideline shows you exactly what to expect from when you create your shipment plan in Amazon Seller Central to when your shipment arrives at the Amazon fulfillment center.
Create an Amazon shipping plan via Seller Central.
If this is the first time you are selling this product on Amazon, start with adding your product to Amazon Seller Central.
1

STEP ONE

Once your product is listed, head over to the "Manage Inventory" page and click send/replenish inventory.
2

STEP TWO

The first piece of information they will ask for is the "Ship from" address, that is the location where your shipment will be picked up for the final delivery to an FBA center. It is crucial that you do not use your supplier's address here, as this address can affect which warehouse(s) your product ends up at. So, use either the address of the offloading warehouse at your port of entry or the address of the Freight Right warehouse your product will go to before being distributed to Amazon FBA.
3

STEP THREE

Indicate how your products are packed and the number of units and cases you are sending. To ensure accuracy, remember that a unit is a single product and a case consists of a number of units (or products).
Remember to put all stock keeping units (SKUs) in one shipment plan. If you put them in separate plans, Amazon may assign your shipments to more fulfillment centers than is necessary.
4

STEP FOUR

Next, choose who will prep your goods (including applying the FNSKU, the Amazon-specific barcode/identifier): Amazon or Merchant. We recommend that you have your supplier or freight forwarder do that for you, as having Amazon do it can be expensive. However, failing to prepare your goods correctly can also be costly; make sure you understand Amazon's requirements and communicate them to your supplier. Working with a 3PL who is well-versed in FBA requirements is the best way to make sure you aren't surprised by any extra fees.
5

STEP FIVE

Amazon will then generate labels for you, which you can download and send to your supplier who should place them on your packages with a readable barcode visible.
6

STEP SIX

Next, Amazon will assign your products to one or more distribution centers through the US and Canada.
7

STEP SEVEN

Finish your shipment plan by selecting your final, or last-mile, delivery method. You are given the options of small parcel delivery (SPD) or less than truckload (LTL). Generally, if you are shipping less than two pallets you can use Amazon's SPD, but for anything more than that you will want to select LTL and let the freight forwarder take care of the last-mile logistics.
8

STEP EIGHT

Finally, give your shipment a name and approve it. Make sure your information is complete and accurate, because once a shipment plan is approved, you, the seller, are responsible to follow through.
Determine a shipping strategy.

For Amazon FBA there are several available shipping strategies and Freight Right offers customized plans for getting your products where they need to go.
Air versus Ocean.
When shipping to the United States, you really have two options: air or ocean. Both have their purpose and there are pros and cons to each.
Air benefits:
Faster: standard air freight can take 5-10 days.
Safer: air freight is at less risk for natural disasters or theft.
Reliable: there are less variables that can cause delays.
Air costs:
More expensive: air freight can cost significantly more than ocean freight, possibly as much as four times the cost.
Restrictive: air freight has a lot more restrictions on the kinds of products that can be shipped via air.
Less capacity: there is less space in a given shipment of air freight.
Handling: air freight is not shipped via shipping container, like ocean freight is, thus it will possibly be handled more than ocean freight, opening more opportunity for damage.
Ocean benefits:
Cheaper: Ocean freight costs significantly less than air freight.
Capacity: ocean vessels have much more capacity that airplanes, and they take shipping containers, leading to less handling.
Less regulations: Ocean freight allows more hazardous products than air freight.
Ocean Costs:
Longer lead time: Ocean freight can take up to 45 days to arrive.
Less reliable: ocean freight is more susceptible to weather conditions and pirate activity.
The bottom line.
Ultimately, for standard FBA selling, ocean freight shipping is going to be the most cost effective option the majority of the time. Air freight is more expensive, however, if you have a time sensitive shipment, it may be worth the cost.

Less than Container Load (LCL) versus Full Container Load (FCL)

Due to its lower cost and increased capacity, ocean freight is the preferred choice for most shippers. However, the decisions are not finished yet, within ocean freight there are two options for transporting goods, less than container loads (LCL) and full container loads (FCL).
LCL: This is the most typical kind of ocean shipment. It means that your goods share a shipping container with another seller's goods. If you are shipping less than 18 cubic meters, you will probably want to ship LCL. With an LCL shipment, you will pay a per unit price for your shipment.
Since your goods will be consolidated with other shipper's goods for transit, they will have to be deconsolidated once they reach the port and then repackaged before heading off to the FBA warehouse. On top of this, since there are many kinds of goods in the container, LCL's are more likely to be opened multiple times by customs officials or shipping carriers. These factors add time and risk to the shipping process as any time your products are handled, damage is a possibility. However, for smaller, non-time sensitive shipments, LCL is a cost effective shipping method.
FCL: A full container load means that your goods will have their own container, not shared by any other shipper. This, however, does not mean that you have to ship enough goods to fill a container. With FCL, you pay a flat rate for the entire container. This means that after you pass a certain threshold of goods (about 12-15 cartons, or 50% of a 20ft shipping container) it is actually costing you more to ship LCL.
Shipping FCL often means that your shipment will go directly from your supplier to the FBA warehouse without being unnecessarily opened or having your goods maneuvered. This cuts down on both shipping time and potential damage.
The bottom line. As with ocean vs. air shipping, the choice between LCL and FCL ultimately comes down to time, cost, and the nature of your goods. If you have slow-selling goods, shipping smaller amounts LCL may make sense to avoid potential warehousing costs. However, if your products sell quickly, cost-effective and efficient FCL shipping may be the best choice for you.
Amazon's Palletizing and Packaging Requirements.
Amazon has strict palletizing and packaging requirements for accepting international shipments and failure to follow them can lead to Amazon rejecting your shipment, a very expensive and troublesome mistake. This is why working with a freight forwarder and a supplier who are familiar with Amazon requirements is essential.
On average, Amazon requires that shipments arrive at their warehouses via pallets (for the exception, check out our guideline to Amazon's floor loading policy). Pallets must be 48" x 40" and made of wood as Amazon does not accept plastic pallets. If your goods are being palletized in China, remember that they must contain a Fumigation Certificate.
As for when to palletize, for any air freight shipment, it is best to have your goods palletized in the US as the added weight of pallets can vastly increase shipping costs. For ocean freight, it is best for goods to be placed on pallets in China as it is generally cheaper.
Our next section will explore the various shipping options Freight Right offers.

FCL Deliveries to Amazon

With this strategy, we pick up full containers from factories and deliver them intact to the Amazon FBA facility. Boxes will be loaded on the floor without pallets, maximizing space and minimizing price by avoiding pallet costs.
FCL Re-Work

For shipments that Amazon will not accept floor-loaded, Freight Right offers a re-work service. This means that we will pick up your floor-loaded full container from the factory, ship it to one of our warehouses in the state, where it will be unloaded, palletized, labelled, and delivered to the specified Amazon FBA center.
Direct LCL Consolidation from China to USA

Our most economical option, with this strategy your goods are prepared, labeled and consolidated with other sellers' in China, transported via ocean, and delivered directly to Amazon.
LCL to Amazon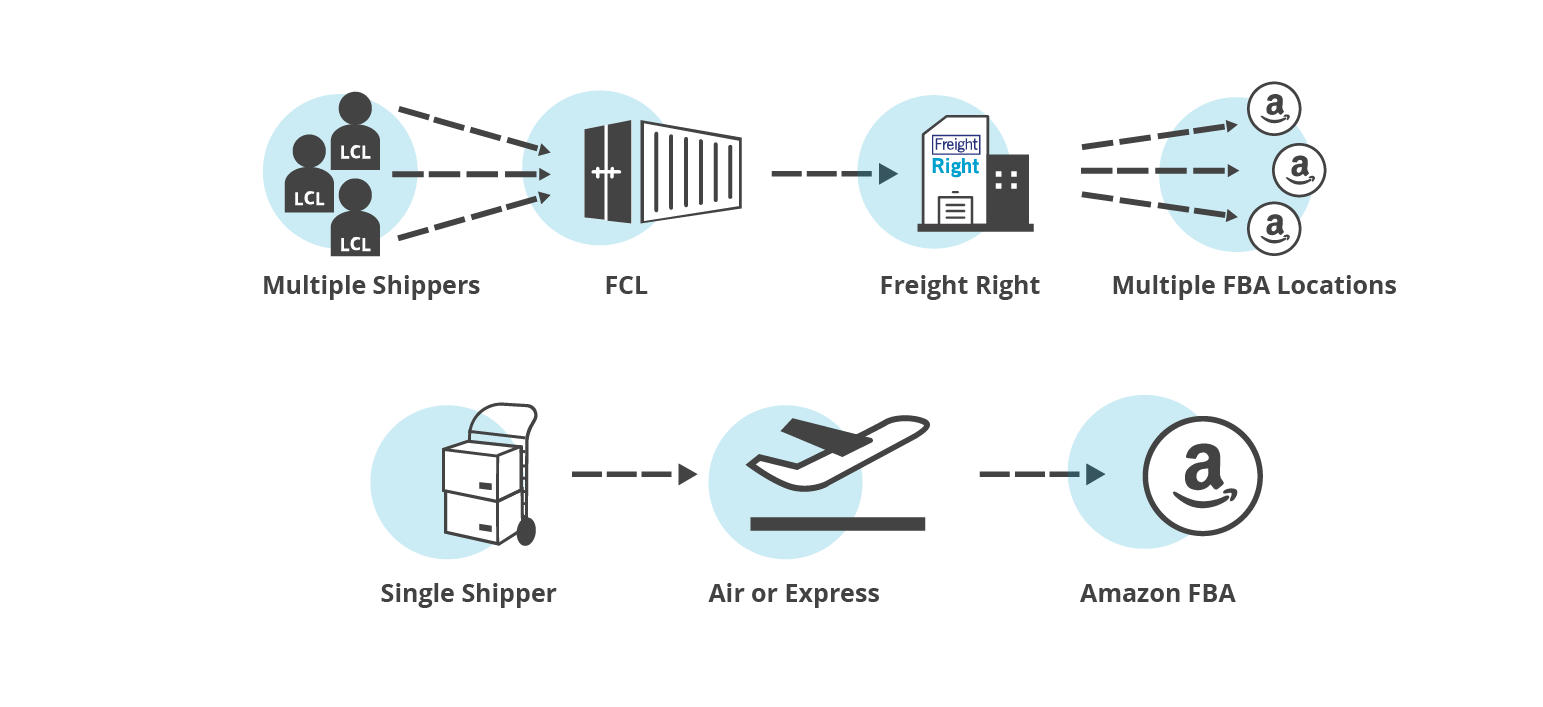 With this option, your shipment is consolidated with other shipments, sent to a Freight Right warehouse, where it is prepared and forwarded to the Amazon FBA location.
Air Shipment to Amazon
Finally, if you are looking to ship via air, our strategy is direct to Amazon via plane.
Tip: The advantage of working with a knowledgeable freight forwarding company is that you don't need to make these decisions all by yourself. Get on the phone with one of our Amazon experts and avoid painful mistakes by partnering with people who have the knowledge for you.
Contact Freight Right for a quote
Now, you don't need to have all of this figured out in order to request a quote. We are here to help you with these details. However, when your shipment is about two weeks from being ready for pickup, it's time to reach out.
Here is the information you will want to have on hand when requesting a quote:
Incoterms
Supplier's Address
Delivery Address (Amazon FBA: 4-digit Facility Code)
Shipment Ready Date
Mode (air or ocean, LCL or FCL)
Delivery Date
Description of Goods (including weight, volume, HS code)
Value of Goods
We will also want to know:
If you have imported to the US before.
If you have a continuous customs bond.
How often you import to the US.
Have often you plan to import in the next year.
Once you receive and accept the quote, we take over from there!
While your freight is en route
The hard part for you is over at this point. However, we will need a few documents from you along the way. You will need to prepare a Shipper's Letter of Instruction that will include the Commercial Invoice, Certificate of Origin (COO), Material Data Safety Sheet (MSDS), and aFumigation Certificate (if applicable). We will provide the Bill of Lading or Air Waybill. Remember, through every step of the process, an experienced freight expert is only a phone call away.
When your freight arrives at the port.
Just like when your freight was en route, we take care of most of the details here as well. Your main responsibility is to keep up on any necessary paperwork and to communicate with Amazon on your delivery time and set an appointment.
Arrival at the FBA center!
Depending on your shipping plan, your goods will be processed, prepared, and sent off to the Amazon FBA facility. Your goods will then be ready to be shipped all over the US/Canada through Amazon and we will be ready for you next shipment!