Introduction
There are many reasons why companies choose to transport their goods via air. It's a faster and safer alternative to shipping cargo on ocean containers.
What is international air freight?
Air cargo is typically used by global importers or exporters to transport their products from one place to another on passenger and cargo planes. This technique of global transport is called international air freight.
What goods are transported via air?
Because shipping via air is more expensive, it is usually limited to small, time-sensitive, and high volume goods. Here are some of the categories:
Example: If a person is relocating overseas, a bulk of their personal items will be shipped via ocean, but their essentials would be sent via air freight for time-efficiency.
Example: Sending 1 pallet of grass seeds to Amsterdam for the grand opening of a new lawn equipment store because they need samples of seeds. Raw materials are usually sent via air for shut-down factories or grand openings.
Seasonal shipments - This is mostly true for seasonal foods, fruits, and vegetables.
Example: American farming companies send out thousands of airplanes of cherries to Europe and Asia between the months of April and June as a result of the high demand for cherries during the peak season.
Documents and samples - Air is the most cost-effective and quick form of transporting documents domestically or internationally.
Pharmaceuticals
Electronics
Clothing & apparel
DID YOU KNOW that animals, such as horses can be transported via air? Orca Whales have been transported via air for ages from one airport to another on specialized containers.
Can I ship anything via air freight shipment?
There are certain goods that you cannot ship via air freight without certification or permission by federal agencies, origin and destination customs authorities, and other third-party organizations. When shipping telecommunication equipment or Dangerous Goods via air, you need to get special permission from agencies like the International Air Transport Association (IATA) or the Bureau of Industry and Security (BIS). These agencies take care of the evaluation process of licenses for exports and re-exports of goods and technology from the United States.
What are Dangerous Goods (DG)?
The United Nations has compiled a list of nine hazard classes of dangerous goods that are transported domestically and internationally. Following the UN protocol, the DG classifications help shippers to safely and successfully deliver their goods to the final destination.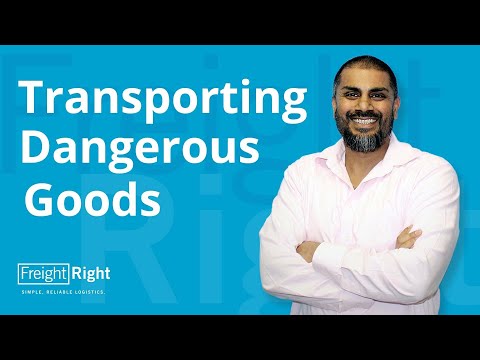 What are the nine hazard classes for Dangerous Goods?
The nine hazard classes for Dangerous Goods are as follows:
The 9 Hazard Classes
Class 1: Explosive Materials
Class 2: Gases
Class 3: Flammable Liquids
Class 4: Flammable Solids
Class 5: Oxidizing Substances and Organic Pesticides
Class 6: Toxic and Infectious Substances
Class 7: Radioactive Materials
Class 8: Corrosive Materials
Class 9: Miscellaneous Dangerous Goods
DID YOU KNOW that many airlines have strict regulations for shipping lithium batteries? Even though they may seem harmless to you, the airline may not be able to move them.
Who can handle my Dangerous Goods?
Only certified freight forwarders or logistics firms can handle the transportation of your hazardous materials. While there are very few logistics companies that can do this, Freight Right is one of the few to have in-house logisticians who are IATA Standard DG certified, which gives the company special permission to deliver products within 7 out of the 9 categories of hazardous materials.
Here's a chart that shows the hazardous products that Freight Right can handle for you:
The 9 Hazard Classes

Freight Right Permission

Status

Class 1: Explosive Materials
Not Permitted
Class 2: Gases

Permitted

Class 3: Flammable Liquids

Permitted

Class 4: Flammable Solids

Permitted

Class 5: Oxidizing Substances and Organic Pesticides

Permitted

Class 6: Toxic and Infectious Substances

Permitted

Class 7: Radioactive Materials
Not Permitted
Class 8: Corrosive Materials

Permitted

Class 9: Miscellaneous Dangerous Goods

*With a specialty in the transportation of Lithium Batteries

Permitted
What's faster: air or ocean shipping?
Despite the fact that 90% of all goods are shipped on vessels via ocean, air shipping is much faster. For instance, if you ship goods from China to the U.S. via ocean, it'll take the ship about 20-30 days to reach the destination, while with air freight the importation process will take about 2-3 days.
Is it expensive to ship via air?
Being the most expensive form of transport, air freight costs 5 times more than moving your product on trucks, and 16 times more expensive than ocean freight. Nonetheless, shipping your freight via air comes with the convenience of quick turnaround times and safer delivery.
For example: When you move the same sized cargo from Shenzhen, China to New York can cost about $1,200 when transported by ocean, and $4,000 by air. In this case, the price triples.
How is the cost of air shipping calculated?
Weight and volume play an indicative role when calculating the price of air cargo shipments. Air carriers charge by either volumetric weight, which is the dimensional or actual weight of your cargo. This is the chargeable or gross weight of the goods.
In the case of oversized freight where any dim exceeds the dimensions of 125 x 88 x 63 inches, the airlines may charge a higher volume rate in accordance with how much space it takes up on the airplane.
Other conditions like cargo capacity, peak seasons, and plane availability are also taken into consideration when determining air freight prices.
How can I calculate the volumetric weight of my goods?
To calculate the volumetric weight of your goods, you must first multiply the item's volume in cubic meters by 167. In the case that the volumetric weight is larger than the actual weight of the goods it is considered chargeable weight.
Simplified: To calculate the volumetric weight of goods, you should follow this formula:
Length x Width x Height / 366 = volume weight or to convert cubic feet = cubic feet * 1728 / 366 equals volume weight.