Intermodal Freight VS. Over The Road (OTR) Trucking
Intermodal freight and over-the-road trucking (OTR) each offer advantages that bring down the cost to ship. Rail freight is generally less expensive and is more likely to carry heavier freight, while intermodal is slightly slower, thus a better option of transporting goods that are not rushed. 
Intermodal Freight is Green 
Moving freight by rail is four times more fuel-efficient than moving freight over-the-road. Trains can move a ton of freight over 470 miles on a single gallon of fuel. The efficient use of fuel results in fewer greenhouse gas emissions. Therefore, increasing the portion of the intermodal freight and decreasing over-the-road will decrease our carbon footprint.
More Options With Our Drayage Network
Drayage is a short-haul means of transportation with a 200-mile transit radius, it moves the container to and from the rail terminal or shipping port. Working with an experienced company ensures that all drayage capabilities are fully leveraged. Freight Right offers you access to a nationwide drayage network with: 
Coverage at all ports and ramps

Bonded, quality carriers anywhere you need them

Dry and temperature-controlled capabilities

Warehousing and transloading contacts near every major port

Extensive nationwide network of UIIA and TWIC certified carriers
Here Is How It Works:
- A truck will pick up an empty trailer or a container and will deliver it to the shipper for loading;
- Once loaded, it will be delivered to the railyard where it will be loaded onto railcars;
- These are ultimately shipped out and the train leaves the origin;
- Once the train arrives at the destination, the trailer is taken off the car and lowered onto a chassis;
- Then another carrier at the destination picks up the trailer and delivers it to the receiver for unloading.
*This maneuvering is primarily why rail is slightly slower than over-the-road trucking.

How Long Does It Take?
Rail transit times vary depending on port and railyard congestion, and other transport conditions. However, they tend to move more rapidly than trucks when it rains or snows. Here's an idea of transit times: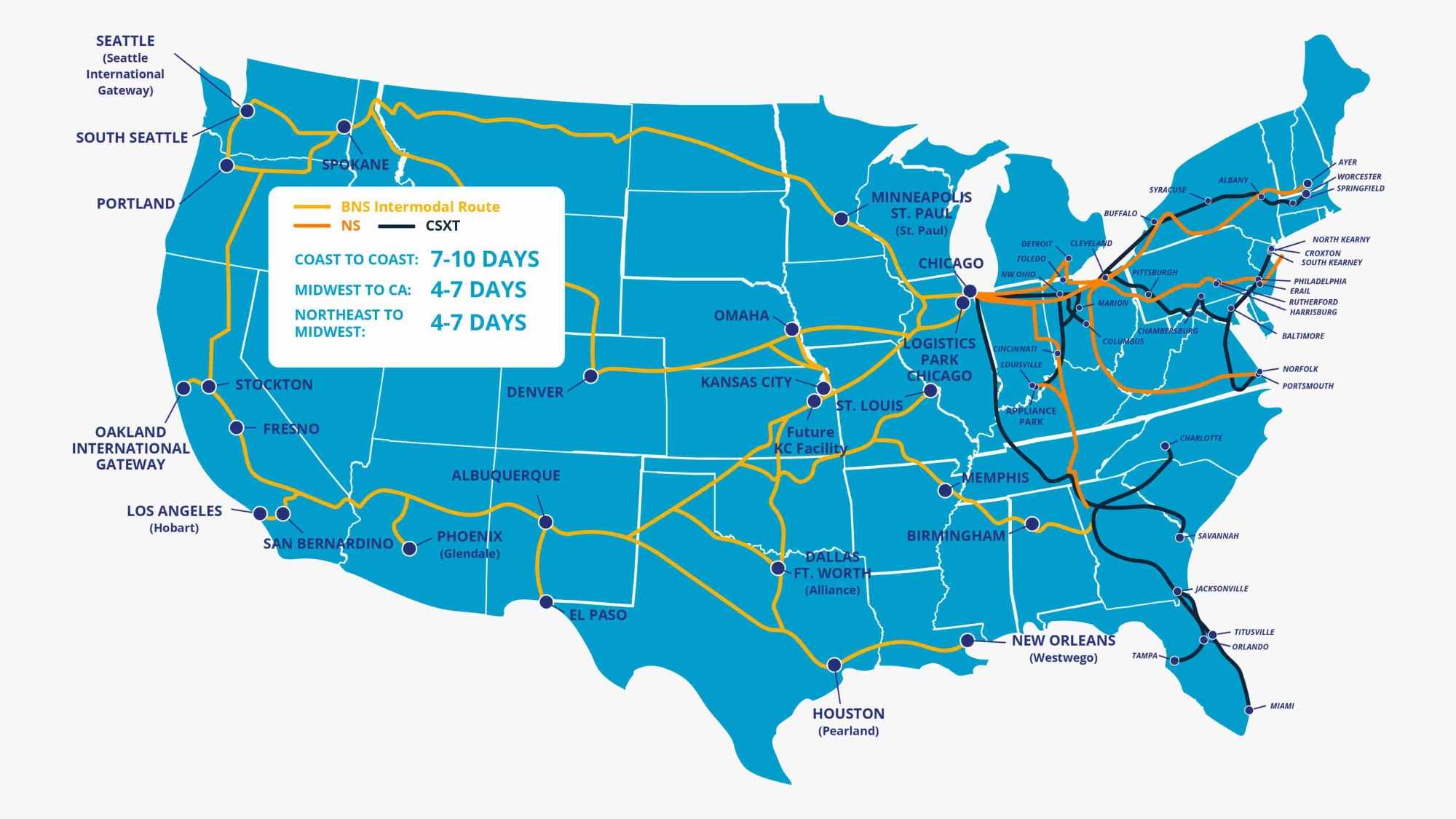 A Little More About Rail:
Historically, railroads were slow and unreliable means of freight transport. Each railyard set its own schedules for its people, locomotives, and cars. There was no actual coordination, which resulted in an inconsistent service and schedule. 
Legendary railroader Hunter Harrison pioneered the system called Precision Railroading, in which the trains ran 24/7 on set schedules. The benefit of all-night runs when the routes are free of commuter trains has made the North American railroad system one of the most reliable on-time modes of transport. Current freight rates per mile for intermodal transport comfortably beat motor freight rates for distances over 500 miles.
Intermodal freight and over-the-road trucking (OTR) each offer advantages that bring down the cost to ship. Rail freight is generally less expensive if the freight's origin and destination are close to railyards (railheads). Rail shipping is also the most economical choice when shipping heavy freight.