Why Choose Freight Right For Your Amazon Logistics?
Freight Right is one of the first logistics companies to become part of Amazon's Service Provider Network (SPN), which directly serves Amazon FBA (Fulfillment by Amazon). We have built a full network of warehouses near every major FBA facility in the United States and Canada. We are equipped with one of the most experienced teams to manage your Amazon shipments.

Amazon continuously vets and monitors providers for its Service Provider Network (SPN). Despite Amazon's list of brutal guidelines, Freight Right is one of the few elite logistics companies to participate in the program. Here are some of the Amazon requirements for its SPN program:
High Quality Service Providers

Amazon audits its providers by monitoring their performance to make sure that only high-quality logistics companies are a part of its Service Provider Network.


Local Providers

Amazon is on a constant lookout to connect and trust local providers to sell globally.

Services in Your Language

You can easily sell on Amazon marketplaces by working with providers that speak your language.

Discounted Prices

Amazon Service Providers (SPN) must offer discounted rates to Amazon sellers.
Freight Right Ships to Amazon's Newest Locations
As an Amazon Solutions Network Provider, Freight Right ships consolidated less than container loads (LCL) and full container loads (FCL) from just about anywhere in the world to these five new locations, using all modes of transport, whenever needed.
We provide innovative and budget-friendly shipping solutions to all Amazon warehouses.
Newest Warehouse Locations
| | |
| --- | --- |
| Australia: | United Arab Emirates (UAE) |
| Perth (Western Australia) PER2 | Dubai- DXB2, DXB3, DXB4 |
| Melbourne (Southeastern Australia) MEL1 | |
Our Locations
Freight Right's warehouse network covers all major Amazon facilities in the United States and Canada.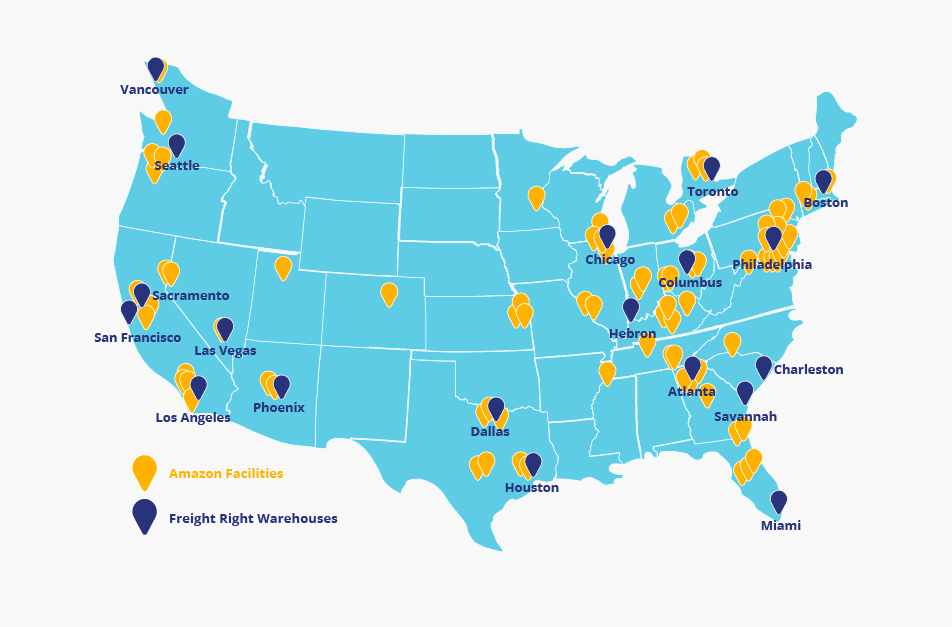 FCL Deliveries To Amazon
We pick up full containers from factories and deliver them intact to Amazon facilities. Boxes are loaded on the floor without pallets, to maximize the space in the container and to avoid additional pallet costs.

FCL Re-work
We pick up full containers from factories and deliver them to one of our warehouses in the U.S. or Canada. The boxes are then unloaded, labeled, and palletized before being delivered to Amazon.

Direct LCL Consolidations From China To USA
We ship consolidated containers from main ports in China to Amazon facilities every week. After being prepared and labeled in China, containers are delivered directly to Amazon without getting unloaded or processed in U.S. warehouses. This is a smart economical option for non-time-critical LCL deliveries.

LCL And Air Shipments To Amazon
We complete worldwide shipments to any Amazon facility via air and ocean. We also provide fiscal representation and assist foreign importers in the United States, Canada, Mexico, Japan, the EU, UK, and Australia.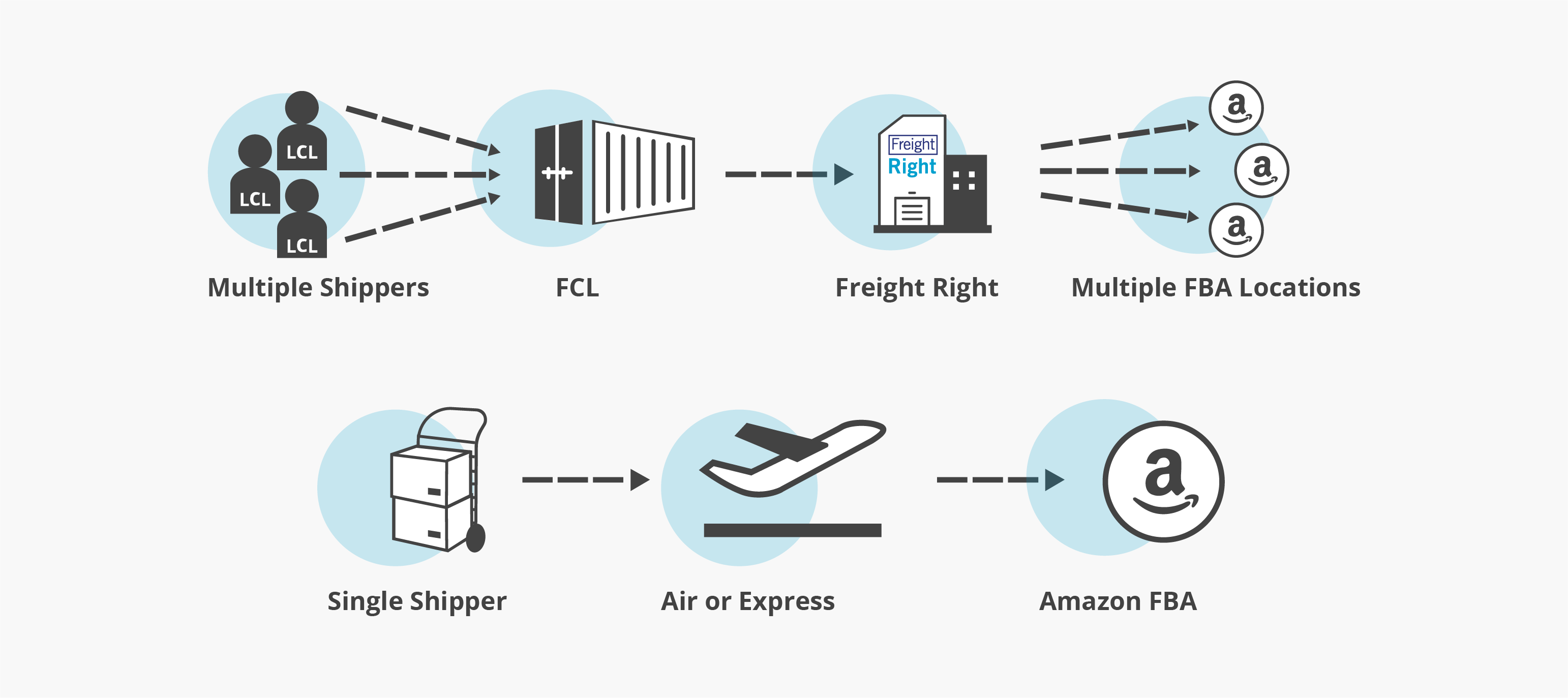 Brazil to USA
Expand your customer base with an Amazon Service Provider Network (SPN) forwarder.
Mexico to USA
Take your business to the world's biggest ecommerce platform with Freight Right's certified Amazon logistics services.