---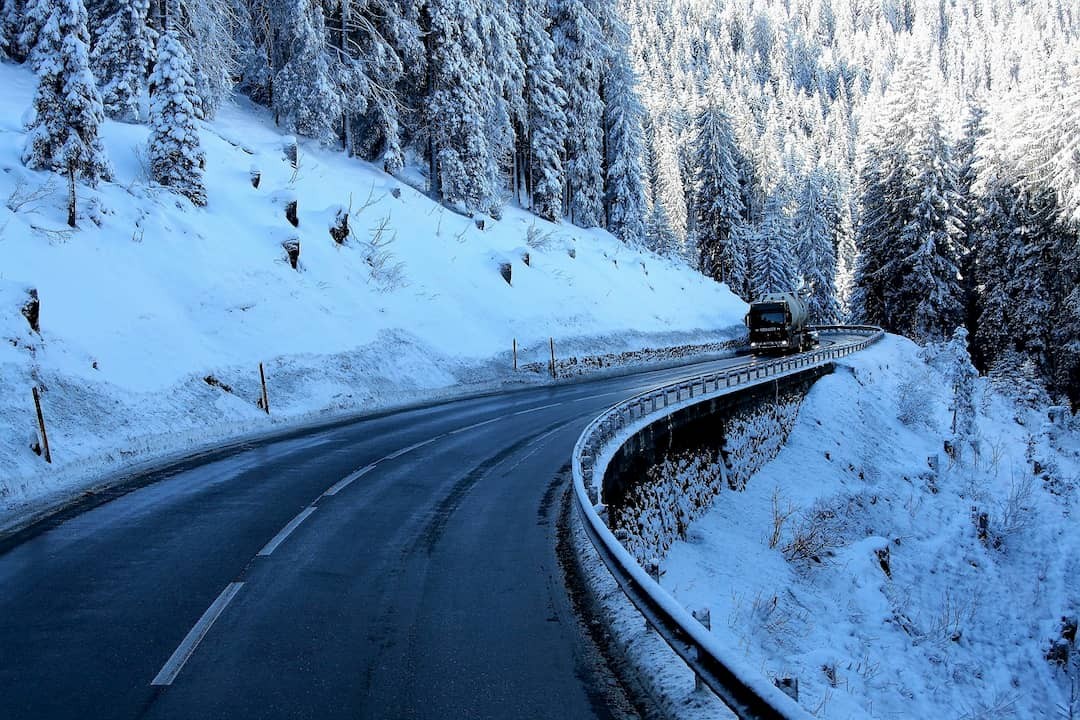 Over 70% of the roads in the US are located in regions that receive more than 5 inches of snow a year. Those snowy regions are home to nearly 70% of the US population.
However, snow is not the only adverse weather condition. Heavy rain, high winds, extreme temperatures, and natural disasters like hurricanes, blizzards, tornadoes, and floods can have a huge impact on road conditions.
This is a significant factor for the trucking industry, causing up to 23% of delays on roadways and costing trucking companies an estimated $3.5 billion dollars every year.
In fact, weather costs companies not just money, but time too. The U.S. Department of Transportation estimates that trucking companies lose up to 32.6 billion vehicle hours to weather-related incidents. That is 3.8 million years.
It is not only truckers and companies that suffer at the hands of weather. As adverse weather can cost transportation companies over a million dollars daily, the ripple effect of this will hit retailers and eventually consumers as rates and shipping times rise.
How does inclement weather become such a problem? Let's look at some of 2020's most significant weather events for an example:
Iowa's record-breaking derecho:
On August 10th Iowa was hit with the most costly thunderstorm in U.S. recorded history. The derecho, which is a widespread, long-lasting, straight-line windstorm—essentially a band of rapidly moving thunderstorms, caused $7.5 billion in damages. While the storm hit other midwestern states as well, Iowa absorbed the worst of the storm, facing 126 mph winds in some areas. This storm flipped semi trucks and caused widespread power outages and structural damage.
Hurricane Season:
With 18 more named storms in the Atlantic than the average hurricane season, truckers delivering to the southern gulf states, particularly Louisiana, met with a lot of weather-related delays.
Of the 30 named storms, 13 became hurricanes and six became major hurricanes and resulted in $41 billion in damages and more than 40 deaths.
As a result of these storms, bridges were shut down, radars were taken out, and many roads and highways were out of commission due to debris and flooding.
Tornados on Easter:
On April 12, 2020, Easter Sunday, eight southern states were hit by more than 180 tornadoes, with 35 more the day after resulting in the deadliest tornado outbreak in 6 years in the U.S.
This natural disaster resulted in over 30 deaths and $450 million in damages to homes, businesses, and power grids. Truckers attempting to navigate this landscape were faced with dangerously high winds, no opportunities to refuel, downed power lines, and many other dangerous obstacles that would have resulted in delays.
Major weather events can make huge dents in trucking capacity, safety, and efficiency, but everyday inclement weather is also a drain on money and time for trucking companies.
Major weather culprits for the trucking industry
Snow and Ice
Accounting for more than 50% of all weather related traffic delays, snow and ice have a big impact on mobility and visibility for truckers and others on the road.
Rain
Heavy rains are another huge obstacle to visibility, cutting a trucker's speed down by 25%. In fact, 46% of wrecks take place during periods of heavy rain.
High Winds
A big issue in the western states, high winds can create a variety of hazards for truckers, including harmful debris blowing into the road. Additionally, high winds can impact the stability of trucks, resulting in speed reductions and even accidents.
Natural Disasters
As covered in the recap of 2020's significant weather events, natural disasters, like hurricanes, blizzards, tornadoes, and floods, shut down roads, leaving goods to be stranded for days. These delays can result in up to a $100 million a day in losses.
Extreme Heat
Finally, extreme temperatures can also cause delays for a trucker and potential issues in cargo quality. Driver capability, vehicle performance, pavement friction, roadway infrastructure, and traffic flow can all be negatively impacted by high heat.
In dealing with all of these kinds of weather, safety for the drivers and others on the road should be trucking companies and shippers' highest priority. This includes supporting trucking companies and truckers in proper safety standards as well as weather and emergency preparedness.
Shippers should hold those in their supply chain accountable to high standards of safety, including trucking companies. Support truckers by giving business to those who promote safety, not those who don't. Freight Right ensures that all of our trucking partners have high standards of safety and are well prepared in the event of a weather-related emergency.
How to plan well for weather
It is not just trucking companies and freight forwarders, however, that need to worry about weather. Shippers need to plan ahead for delays or extra costs associated with weather, not just with trucks, but across their entire supply chain.
For a shipper, inclement weather can cause delays, capacity limitations, extra fees, and the inability to fulfill customer guarantees or expedited shipping services. All of these issues can affect your bottom line.
There is often little a shipper can do in these types of situations. That is why it is important to always have extra buffer built into both budget and schedule, especially in the current turbulent state of freight.
However, one way to mitigate some of these weather-induced supply chain migraines is to work with a knowledgeable 3PL. With their experience in dealing with adverse weather and shipping delays, they can help you avoid costly hold-ups and increase visibility in your supply chain through transportation management software.
Letting a team of experts deal with weather and other frustrating delays can free you up to be expanding and enforcing your business and not have to worry about potential delays due to wind or rain.
Interested in partnering with an excellent 3PL? Reach out to out experts today.
For more freight-related news, follow @freightright on twitter!
---
More News