---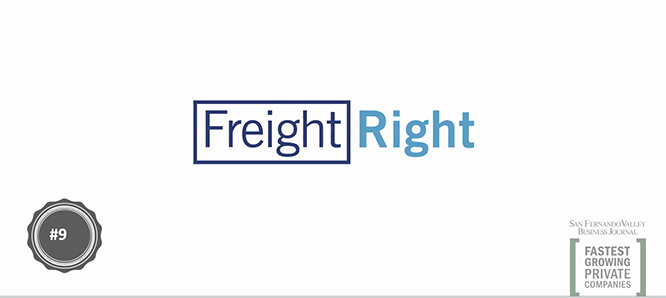 For the second year in a row, Freight Right Global Logistics has been ranked in the top ten Fastest Growing Private Companies by the San Fernando Valley Business Journal.
Last year, Freight Right ranked #8 and in a virtual awards ceremony on Thursday, they received the honor of being ranked the #9 Fastest Growing Private Company in the area.
The San Fernando Valley Business Journal covers the San Fernando, Santa Clarita, Conejo, and Antelope valleys and this year's lineup included businesses like Caulipower, Scorpion Inc, and Leif Organics.
The ceremony included recognition of the top 50 Fastest Growing Private Companies and a discussion with industry leaders on how to manage exponential growth. Representatives from Freight Right as well as many other leading businesses met via Zoom to witness Publisher, Charles Crumpley, and representatives from sponsors, Cowe Communications and Valley Community Healthcare, reveal the rankings.
This award came only one day after Freight Right was recognized by The Los Angeles Business Journal as one of LA's 100 Fastest Growing Private Companies at Tuesday's 24th annual LABJ Disruptor Awards.
Both awards are based on annual revenue growth and honorees are ranked according to highest percentage of growth in the last year.
Freight Right, who for three years in a row was included in Business Magazine Inc's "Inc. 5000 Fastest-Growing Privately-Held Companies in the U.S." guide, has grown exceptionally fast in the last thirteen years.
Robert Khachatryan, founder and COO of Freight Right, attributes this growth to the hard work of his team.
"People are essential," Khachatryan said. "You cannot achieve this kind of growth without a talented team. That's why I go for top notch talent with every new person that we bring on board and we are seeing the effects of that effort today."
---
More News